Wheel Materials
Elastic Rubber


With the features of high elasticity, excelling in load bearing, wear resistances, Elastic Rubber is suitable for using in the most of environment, especially the case of need buffer. Also, travel with high stability and reduce the friction coefficient, it can be easily moved in any uneven surface throughout indoors or outdoors.

Thermoplastic Rubber


TPR is a kind of thermoplastic elastomers. The features are having good wear, resistance, shock absorbing, and quiet rolling to protect the floor. Resistant to cleaning chemicals, acids, alcohol, and water, TPR wheels are an excellent choice for wash-down applications, such as medical equipment, laboratory and kitchen facilities. However, TPR is not recommended used in rugged floor and any oily place.

Polypropylene


Use the high impact resistance material to product the plastic wheel. It is light weight and excellent in moisture and corrosion resistance. Also, the price is the most economical.

Nylon


Nylon is light in weight and excellent resistances against moisture, wear, and corrosion. Our wheels can be differentiated in the black nylon and the white nylon with highest toughness.

Cast Iron


Cast Iron is made of gray iron. Heavy in weight but these wheels are exceptionally long wearing, abrasion, built for high capacity applications and have the ability to withstand extreme heat.

Phenolic


Made of phenolic resin and the specific fabric through thermosetting process, phenolic wheels are high load capacities, resistant to extreme temperatures and high compression. It is the high-end material of caster.

Polyurethane


Polyurethane wheel is suppressive property against fouling to floor surface and the resistance against oil and chemical. Besides, natural perfusion PU can't be hydrolyzed, so it can maintain a stable material hardness and less pollution to the ground. The range of application is quite extensive.

Thermoplastic Polyurethanes


TPU has good wear resistance and abrasion. For our TPU wheel, we will add plastic cover for prevent the dust and beautify the appearance. However, for thermoplastic polyurethanes, it will be hydrolyzed as time went by.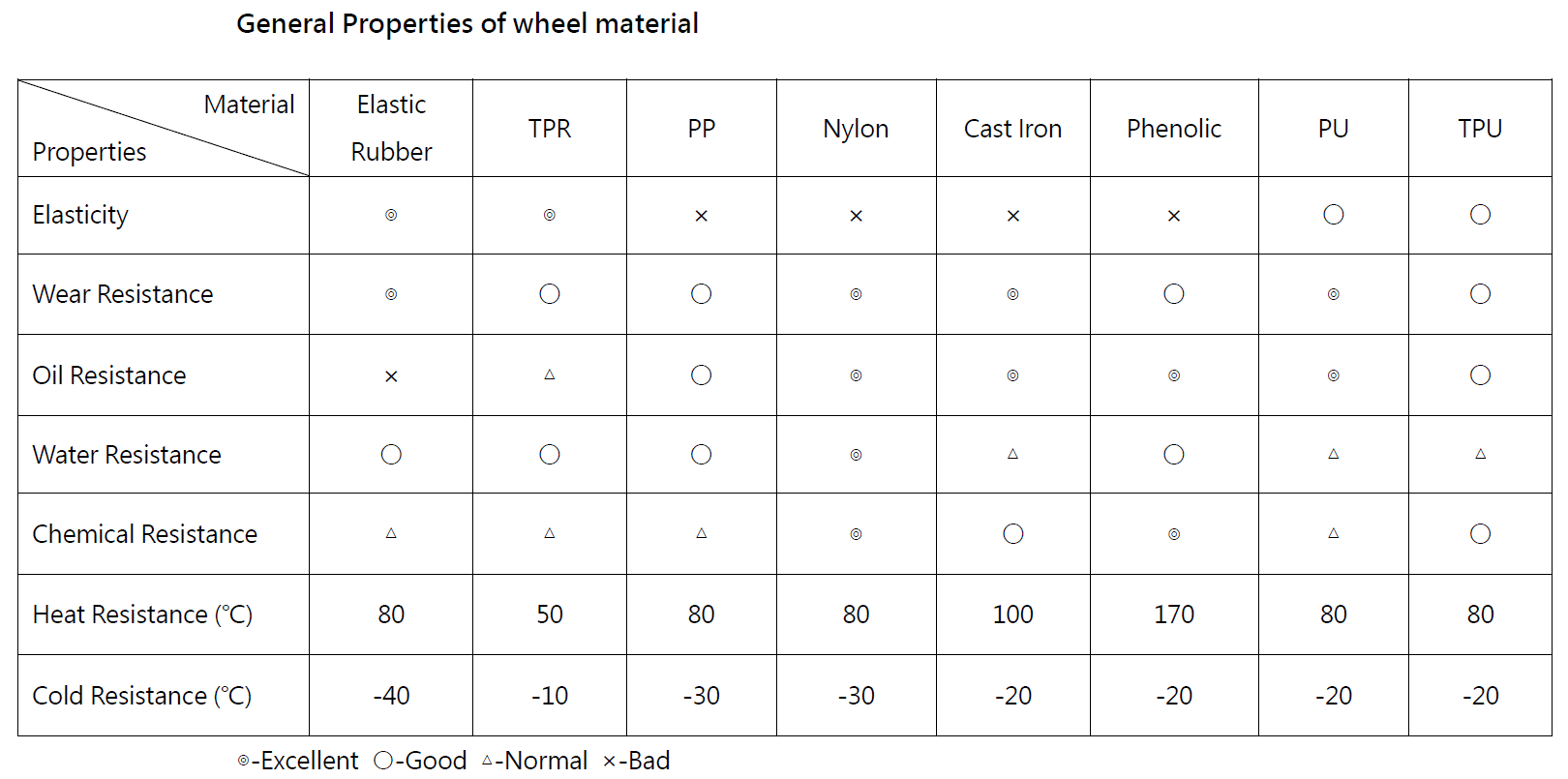 Classification
News
Keywords
Search